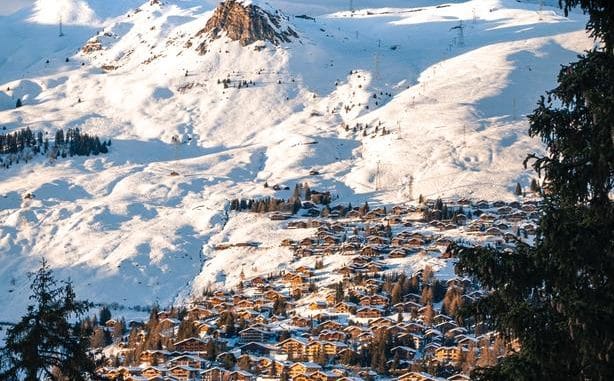 Verbier ski resort is situated in a stunning sun-drenched landscape at an altitude of 1500 meters. Located just below the station, the village is typical of a Swiss village with traditional wooden chalets.
If you are considering Verbier for your skiing holiday, here's a complete guide to the resort and what to expect when you're there.
Where Is Verbier?
Some of the most beautiful ski resorts are found in Switzerland. In the canton of Valais, this delightful Alpine village of Verbier can be found. It is the gateway to the four ski areas of the Vallées, including Verbier, La Tzoumaz, Nendaz, Veysonnaz, and Thyon. The ski resort is situated in the Val de Bagnes, Switzerland, Lemanic Region, Valais, and only 0.5 kilometers from the village centre of Verbier.
There are views of the Matterhorn and Mount Blanc trails on Mont Fort Glacier. For its off-piste ski slopes, Mont Gelé is best known. Waterfalls cascade into Mauvoisin Lake, the arched Mauvoisin Dam, in the south, in the secluded Haut Val de Bagnes nature reserve. Alpine-inspired art punctuates the Sculpture Park of the 3D Base. Verbier's high altitude and snow cannon capabilities have made the Swiss resort a secure location for good snow. There are some tremendous off-piste options to take advantage of when the conditions are right.
What Is Verbier Famous For?
Verbier is famous for its advanced and off-piste skiing, and stunning views and big, steep slopes are also available. Verbier is known for the notorious and challenging runs and the après-ski offered on and off the mountain in many venues. If you are a skiing novice, there are blue runs for you to practice your skills, and you can visit the red slopes once you have mastered them.
What Is Après Ski Like In Verbier?
Verbier is also very famous for its New Year's Eve party and its vibrant nightlife with great restaurants and nightclubs. This is undoubtedly the ski resort for you to visit if you love your après-ski. A lively combination of trendy bars, traditional pubs, and cosmopolitan discos (open until the early hours) is available, producing one of the Alps' most thrilling après-ski scenes.
Verbier Ski Resort: Overview
The Slopes
Elevations are 2509 m (821 m – 3330 m)
412 km of ski slopes
107 km of blue runs (easy)
202 km of red runs (intermediate)
103 km of black runs for advanced and expert skiers
67 ski lifts move 85941 passengers per hour
The resort is open from mid-November until late April
Many modern gondola lifts carry guests to the ski resort of Les 4 Vallées from the base station. Most of the critical slopes in Verbier and Veysonnaz are accessible by new, high-speed lifts. There are also weather protectors on some of the chairlifts here. There is a need to modernize the lifts in Nendaz and Thyon. Many t-bar lifts are still here. There are also several detachable (high velocity) chairlifts between the t-bar lifts.
Villages Nearby
Thyon (0 km)
Les Collons (0.4 km)
Verbier (0.5 km)
La Tzoumaz (0.6 km)
Nendaz (0.6 km)
Veysonnaz (0.9 km)
Le Châble (0.6 km)
Bruson (3.3 km)
Les Masses (5 km)
Siviez (0.1 km).
With its 3,330 metres, the Mont-Fort Glacier provides one of the most spectacular views of the Alps highest peaks, such as the Matterhorn, the Grand-Combin, and even the Mont-Blanc. The famous Patrouille des Glaciers starts every two years in Zermatt and finishes in Verbier.
Winter Activities
Skiing, kids skiing, snowboarding, off-piste skiing ski touring heliskiing, freeride skiing, freestyle skiing Haute route snowshoeing, sledging, and paragliding are all the winter sports you can take advantage of.
Nearest Airport To Verbier Ski Resort
Geneva International (160km)
Sion Airport (55km)
Most visitors fly into Geneva International Airport, where transfers are around two hours away from Verbier ski resort. Sion Airport is closer, around a one hour transfer, but offers fewer flights to fewer destinations. Read the latest travel news and advice for skiers before you fly.
Why Visit Verbier Ski Resort?
The resort has retained the charm of a traditional Valais village with its authentic chalets. In winter, the resort is a haven for skiers, snowboarders, and freeriders. Everyone loves Verbier and return often, why wouldn't you! You can even buy or rent a property in the resort for all year around skiing.