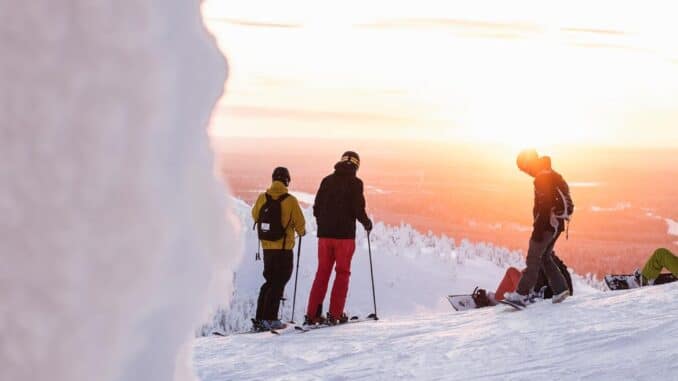 I want to introduce my teenager to skiing, is it easy for a teenager to learn to ski or snowboard? When planning any form of vacation, it's often difficult to remember to include the children, especially teens. Even more so, if you're planning a ski vacation, given the high cost of ski vacations, finding the appropriate ski resort where the younger members of the family are excited to get out of bed may be a real problem.
They may develop a fascination with snowboarding and do not want to spend the entire day skiing with the rest of the family. If you can find a resort with a teen ski school, this is a great way to give kids some independence while also keeping them safe. This is a good read, everything you need to know if you are new to skiing & snowboarding.
Teen Ski Schools
In the French Alps resorts of Courchevel, Meribel, Tignes, and Val d'Isère, plus Val Thorens, teen ski schools often offer ski-training groups for 13 to 17-year-olds. They can learn to snowboard in a safe setting and be trained how to develop their skills in the terrain parks. Helmets, spine protectors, wrist protectors, impact shorts, elbow, and knee pads will all be worn by your youngsters. Don't be concerned about the additional cost because specialised equipment can be hired.
Is it prohibitively expensive?
Skiing was once considered a wealthy activity, but that is no longer the case; it is today more popular than ever. Several ski resorts provide excellent value for money, and if you book early enough, you may take advantage of some spectacular bargains. Look for early bird specials, just like you would for any other vacation, and there are many ski packages with discounts for kids. Check out first-time skiing in France – the most incredible resort is Les Gets – for your first visit to the slopes.
Isn't it freezing outside?
Of course, there is snow, but hitting the slopes in the springtime when the skies are clear and the sun is shining means getting a tan, which necessitates the use of sunscreen.
Are you confident you won't get hurt?
You'll almost certainly fall over at some point; fortunately, you'll have the skills and training to make it as painless as possible. Any sport in which you participate has the potential to cause injury.
Après ski
Being a parent brings with it the stress of Après ski, which is lovely, but we have to watch how the older teens behave. Because there is always the chance of an avalanche, we must inform our teenagers about the dangers and how to be safe, especially if they have had a night out. This will not apply to children aged 13 and 14, but it will to those aged plus 17 years. In France, Italy, Austria, and Switzerland, the legal age to purchase alcohol is 18; however certain nations, such as Austria and Switzerland, allow 16-year-olds to buy beer.
Family entertainment
As we all know, keeping a teenager entertained is difficult, so look for a family-friendly hotel with on-site entertainment and, preferably, other families with children of the same age. Another suggestion is to make sure your child gets a decent breakfast before heading out for a day of skiing and to ensure that everyone in the family has a backpack. Water, a sandwich, or a bar of chocolate can be carried to keep their energy levels up and provide a snack.
Family-friendly ski resorts
When planning your next ski vacation, seek family-friendly resorts. This will put your mind at ease, and your children will not be exposed to groups of older teens who are more interested in the après ski than the skiing. You may teach kids to be responsible on the slopes and to enjoy evenings without overindulging over time. They will love the ambiance and variety that this fantastic form of a holiday may bring to a family, as they say, everything in moderation.